10 Best chic bridal hairdos for long hair on your special day
Every bride wants to appear perfectly special on her wedding ceremony. The beautiful hair of a lovely-looking bride looks like a glamorous crown. Especially those are blessed with lustrous long hair; they get some added advantage because you can try a lot of bridal hairstyles to make your bridal makeover just awesome!
There is no specific rulebook for bridal hairdos for long hair. It should suit your attire, height, and figure only. Also, you should count on your hair volume, hair texture, and hair color. Don't forget about your personality and stature so that the hairstyle and your look should resemble as just made for each other.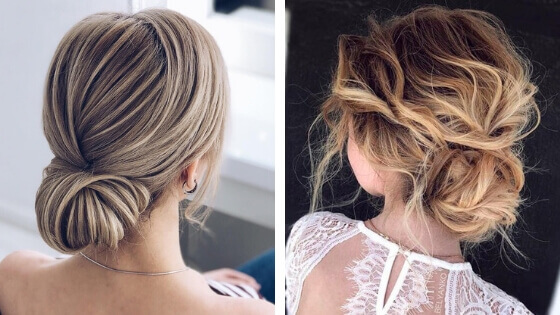 The smart chic bun style
Some hairstyles are neither retro nor trendy. They are rightly called classy. The stylish, chic bun is one of the fashionable hairstyles that will match all bridal makeover. If you have a soft nose for a clean hairstyle that looks sleek and easy to manage, it is the best bait you can go for! You will get another advantage with this hairstyle. It is easy to maintain, and you can be at better ease with your bridal dress.
Messy hair styling is in Messy Updo
It sounds like a total mess, isn't it? Long hair and messy look? Yes, you are right. According to famous hairstylist, Claire Balest, long hair and messy bun is a winning combo for chic and smart brides' unique wedding makeover. Besides the hairstyling, let loose a few strands strangle around your face and let them enhance your bridal charm. This hairstyle goes well with all hair textures, and you don't have to use many styling products as well!
Floppy Chignons: smart and simple
Long hair can get easily embellished by hair accessories on the Floppy Chignons hairstyle. It adds added beauty in the bridal makeover. This style is also famous as loose Chignons bun. Versatile style that goes well with all types of long hair, silky and bristly. The bun will take softy rest on your neckline, and it will add adorable vibes all together! You can use any gorgeous hair clip to highlight the bun.
Simple, and you're done! If you are not using a veil over the head, you can add a layer of braiding in this bridal hairdo for long hair. You will look fabulous!
Try French twist: sleek and tight
You possess voluminous long hair, and you want to have a chic and effortless look that will last easily for long on your marriage day. French twist is one the ideal bridal hairstyles you can try confidently. You don't have to worry about hair care pre or post the styling. You can keep it tight. However, if you wish, you can add slight looseness in your style according to the shape of your cheekbone. Add a stone-stud hairpin in the roll, and your hair makeover is perfect!
Piled-Up Formal Hairstyle
If your long silky hair is not able to clamp a long, fashionable hairstyle for a stretched period, then it's time to try a smooth and tight hairstyle. The trick is to pleat your dense, long hair into a volume-packed curl-fest that will look formal instead of looking untidy. A strong hair updo is also perfect for hot-summer wedding days or when you have used a traditional veil, tiara, and other hefty bridal accessories.
The Royal Bridal Top Bun
Want to style your long hair like a royal princess? Try the royal bridal top bun style. If you have a high volume of hair, the style is perfect for you. Simply fold your hair in the shape of a bun and fix it on your head with lots of hair clips. The bun will look well-textured, and soberly managed. Veil or no veil, you will look gorgeous with your natural crown.
Swirled curly half-up hairstyle
Bridal dress and jewelry may differ, but long hair beauties mostly love dropping coils of curls, hairy waves, and gorgeous hair add-ons with bridal attire. You may go for a swirled curly half-up hairstyle for your long hair if you are of the same likes. If you have slightly curly hair, you are blessed. Otherwise, we will suggest a curling wand for your hair management! Use the wand before you start hair draping.
Low bun with curly hair
If you have long curly hair, surely, you are a sweet beauty like Rapunzel. But we understand that long hair untied with bridal dress may look messy. Try low bun: the mild curls will add some lovely twists and tweaks in your hairdo. Ask your hairdresser to set a pearl-based hairpin in the middle of the bun. Your bridal hairdo is perfectly finished!
Braided crown with a hairband
Are you looking for a romantic bridal hairstyle on your special day? You can try braided crown with hairband style for your bridal hair makeover. It looks elegant, romantic, and above all, it will add a retro look that your fluffy hair beauty can finally compliment the sparkling hair band's tight hold. The crowning glory of your long hair will be at its pinnacle in this hair updo.
Braided side bun
Twisted and braided bun are the two most chic style of a hair makeover and suppose you love both the duo. Let's make the best fusion of these two bridal hairdos for long hair. You can twist your long hair at one side and make a cute French braid on the other side of your head. Gather both the braids at their base. Now gently form a bun with your long hair and bingo! You are ready for the show!
These are the 10 chic and gorgeous bridal hairstyles you can try with your lovely long hair. All these fashionable hairstyles narrated here are quite popular that you can ask your hairdresser to get the style for you regardless of your hair texture. One of the best factors about these bridal hairstyles is you don't have to use intensive hair styling products to updo your locks. Most of these styles are suitable for all types of ladies with long hairs.
Whatever hairstyle you cherry-pick, make sure that you are comfortable with it. Also, take the suggestion of a beautician to select the bridal hairstyles that will go for your facial contour and your overall appearance. It's your wedding day, and you should sparkle like the most beautiful bride the world has ever cherished!